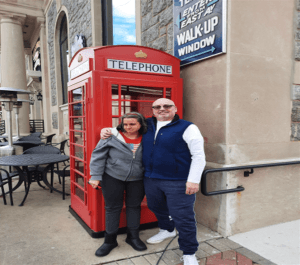 2021 Annual Appeal 
Achieve with us.
As The Arc Gloucester enters our 65th year assisting children and adults with autism, Down Syndrome, and other forms of intellectual and developmental disabilities through carefully designed programs and services, we reflect on the many triumphs of 2021.
One of the triumphs has been the ability to meet and assist many new individuals and their families. One of the newest members of The Arc Gloucester's family is Bernice. Bernice lives a full and vibrant life, attending The Arc's Turnersville Achievement Center during the day and residing at one of The Arc Gloucester's residential homes.
The Arc Gloucester's dedicated staff was able to assist Bernice and her brother Lenny, making her transition from Pennsylvania to Gloucester County as seamless and stress free as possible. "The Arc Gloucester was very helpful with all my questions and placed me at ease with my concerns about moving my sister to a new state," said Lenny. Bernice has now made her home in Gloucester County with her fellow friends and fellow house mates and her brother is just around the corner to join her on exciting day trips and walks around town. Lenny told us their favorite place to go is Pitman, "we love to visit parks and find fun local events and craft fairs."
Bernice spends her days among friends at The Arc's Turnersville Achievement Center. She looks forward to drawing, painting, bowling, and the many outings the staff at Turnersville take her on. "I am very pleased with the staff," Lenny noted. "I am happy knowing that my sister is in good hands at The Arc Gloucester."
Thanks to donors like you, The Arc Gloucester can continue to provide programs and services to over 600 individuals and their families. These services empower our individuals to live independently, learn new skills, obtain employment, as well as receive much-needed respite services.
We move into 2022 with a renewed passion for the work we do with the individuals we serve. Thank you all for your continued commitment to helping people with intellectual and developmental disabilities throughout our community.
From our family to yours!
Wishing you a happy and healthy 2022!
DONATE NOW
 
The Arc Gloucester | 1555 Gateway Blvd. | West Deptford, NJ 08096
 
The Arc Gloucester is a 501(c)3 nonprofit organization. Federal EIN: 210-697-151