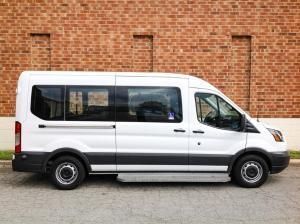 You Can Help Us Reach Our Goal!
Transportation is essential to fulfilling the needs of The Arc Gloucester's programs. Purchasing an additional vehicle for our existing fleet will be a cost-effective effort to further reduce our need to use outside vendors to meet our ongoing transportation needs.
In addition to benefiting the individuals themselves by allowing more outings, a larger access to services and establish a set schedule; more vans would allow us to open up additional programs and expand upon our existing programs.
Many of our vans must be modified, allowing them to be accessible to all of our individuals. Some of the modifications we require are built in chair lifts, a smart floor layout allowing us to accommodate multiple wheelchairs, railings, and much more. Compared to a van you can buy for only $15,000 a van that meets our needs can cost upwards of $60,000.
The primary focus of our fundraising goal at The Arc Gloucester's 65th Annual Gala, held April 2, 2022, will focus on raising funds for this much needed agency van. If you would like to help support us in this goal you can sponsor the gala, attend the dinner, or donate using the link below! For more information, please reach out to us at Development@TheArcGloucester.org
We hope you will join us in our mission of providing accessible transportation to all children and adults with intellectual and developmental disabilities throughout Gloucester County.
Donate Today!