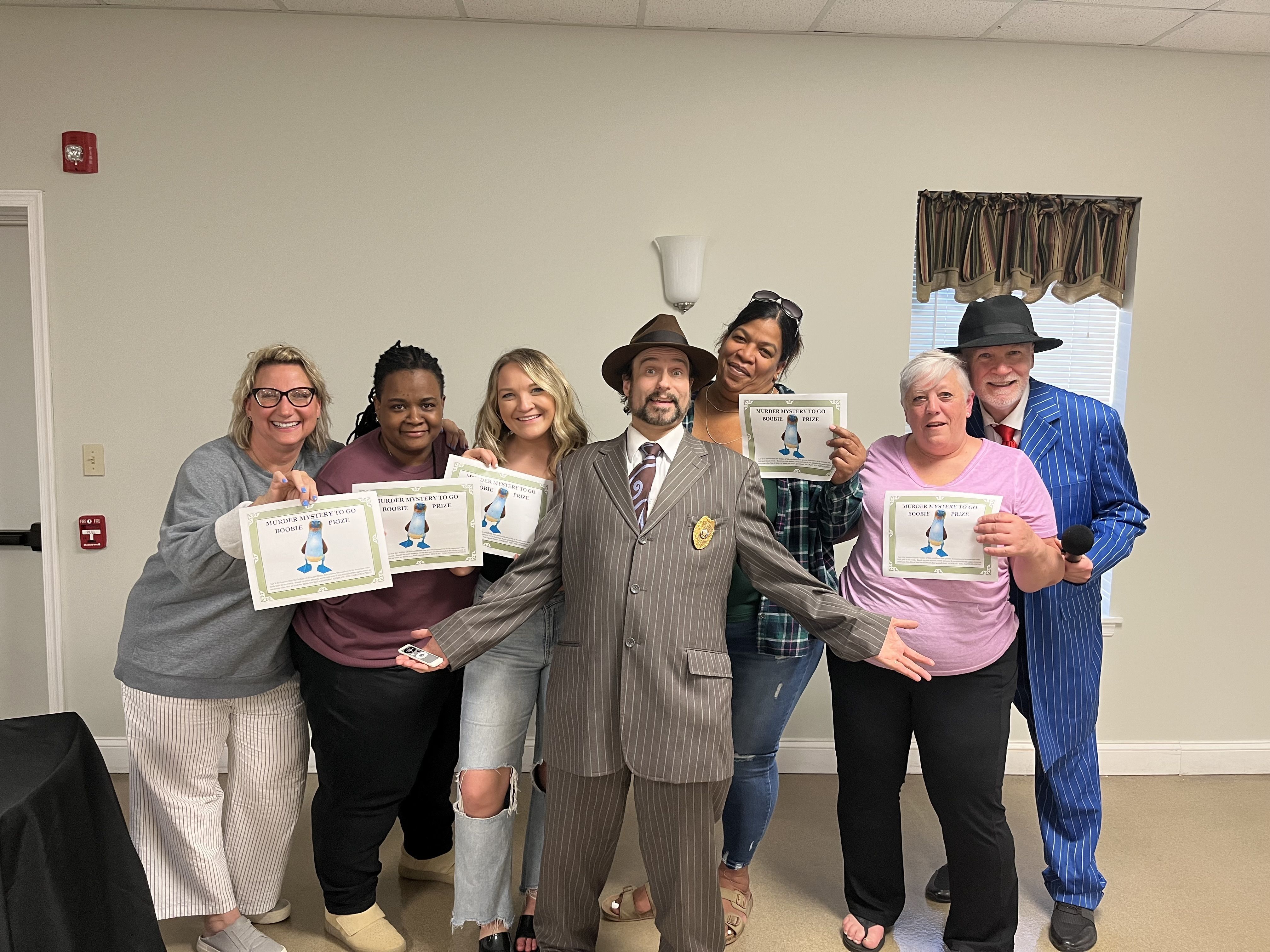 The date has come: May 20th, 2023. Today I have an assignment to blog for a mystery theater at Camp Sun 'N Fun in Williamstown, New Jersey. The Arc Gloucester has a camp facility in Williamstown designed specifically for The Arc Gloucester community. A variety of fun and participatory fund-raising activities are planned for the whole year.
Tonight, is the mystery theater, a venue put on by "mystery theater to go" to raise funds for six AEDs. (Automated external defibrillator)
A few minutes before I got in my car to go to Williamstown it began to rain not just light rain but pouring rain. I was wondering as I started driving to Williamstown what kind of camp is this? When I checked into it, I realized that Camp Sun and Fun is more than just an outdoor playground. There is a lovely activities room for all kinds of gatherings and a large kitchen for preparing delicious food.
As I pulled into the driveway of Sun 'N Fun, the rain begins to slow. A promise of sunshine peaked through the clouds. A feeling of anticipation is gathering. I entered through the large double doors of the activities building – – two happy women, Jennifer, and Marcie, greeted me warmly.
Marcie led me to one of the round tables. I met Lisa Conley, Executive Director, another smart and happy woman employed at The Arc Gloucester. I notice the clock on the wall, it won't be long before the festivities begin. I'm hungry! There are all types of foods artfully arranged on tables for those of us to enjoy. I grab a beverage and several types of salads and go back to my seat.
The theme is The Roaring 20's and the room is decorated with lots of black and white feathers in vases, as well as old whiskey bottles that make us mindful of prohibition and bathtub gin.
An Astonishing Fact
Jennifer gets up and walks to the front of the room where there is a microphone. She picks it up and starts to talk into it. Jenn introduces herself and begins to tell us a bit about why we are all here tonight.
Jenn tells us the importance of an AED to the residents of ARC.
AEDs (automated medical defibrillators) provide medical safety to someone who may be experiencing cardiac arrest. This small but dynamic piece of equipment lessens the chance of brain damage by 28%. This is because there is no waiting for paramedics to arrive. The AED analyzes heart rhythm and if need be, delivers an electric shock which puts the heart back into a normal heart rhythm.
Did you know that more than 50% of The Arc Gloucester residents are above the age of 65? An AED is truly a life saver for the The Arc Gloucester community.
What a gift! A chance at a longer life.
Mystery Theatre
Now onto the show! The Ragtime music and costumes evoke memories of the 1920's that we see in old movies and from clips of old news shows.
First, there's an actor The Moderator, who pretty much stays that character throughout the whole theater production. He's got a heavy North Jersey accent. You know the Kind: Dems doez yous and…the old brown suit and fedora.
He sets the scene, and he talks about things that are used for clues because at the end of this mystery we must solve it and find out who done it.
Who Dunnit???
A man in a bright blue roaring 20's type suit and hat appears. He says he is the father of Roxy, his actress daughter. Has anyone seen her?
Then another character enters the scene and tells us that he is the cook who created a secret recipe for bathtub gin that was given to him by Jimmy. The plot thickens…
Suddenly—
Lisa Conley staggers out and reveals to us that she has been stabbed. And then she slowly dies lying across one of our tables
Good grief they've got lots of people helping this whole mystery theater! What fun.
There are a couple of other characters in our mystery. One of whom is the daughter Roxy, who appears in a flapper outfit and sings "I wanna be loved by you". This was fun to watch because she went around and sang to most of the men in the room, raising the blood pressures and temperatures of the men. How do I know? The red cheeks were dead giveaways.
I will stop here. I don't want to spoil the fun…ending.
Reflections
Most of the people attending tonight interact in one way or another as bit actors for the whole plot of the mystery. This makes attending lots of fun.
If you are reading this Blog and thinking, "Wish I had been there…," it is not too late…
You can still donate!
Time to skidoo! Boop boop a do!