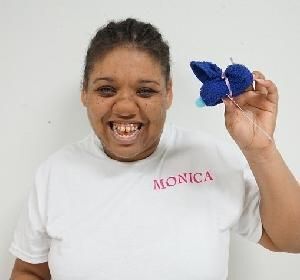 July 2018 Star Self-Advocate
Monica
For July 2018 our Star Self-Advocate is Ms. Monica Tennant! Monica has been with us at the Achievement Center at Franklinville (formerly known as Franklinville ATS) since 2010! While being an absolute joy to be around Monica is also one of the friendliest, caring, and most helpful people you'll meet. She is quick to introduce you to her friends, show you around, and share a laugh with one of her quirky jokes.
Over the last eight years, Monica has attended tons of fieldtrips with her friends through the Achievement Center at Franklinville. Some of her most favorite trips have been nature walks, participating in yoga at Funny Farm, bowling, walking the boardwalk, and learning how to Cha-Cha at ballroom dancing on Wednesdays at Sunshine Inn!
Monica isn't always attending fun trips with us though! When first arriving to the Achievement Center at Franklinville in the mornings, she loves to assist Ms. Pat in the office by updating schedules and making copies for everyone so they are ready for the day! Then Monica heads outside to assist in the garden. This season, she is helping to grow vegetables and gourds! Monica enjoys going out to water the plants, weed, pick everything that has ripened, and help plan and cook delicious snacks with their freshly picked vegetables. While gourds may not be the most delicious things for recipes, they are extra fun to paint for Halloween which is something everyone at the Achievement Center at Franklinville looks forward to when they watch the gourds grow all summer!
Most recently Monica has been involved in AKtion Club where she has helped raise donations such as coats, non-perishable foods, and items to fill care packages that are delivered all around Gloucester County. Monica has been such a wonderful addition to AKtion Club and the Achievement Center at Franklinville we are proud to call her our July 2018 Star Self-Advocate! 
Congratulations & Great Job Monica!