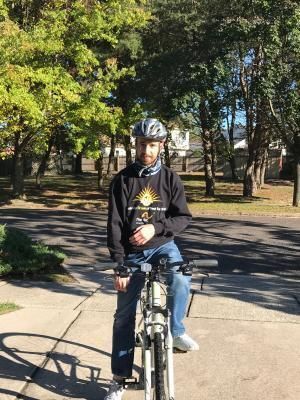 Step Up to Our Challenge
On Saturday, October 17th, our Step Up to The Arc Gloucester Virtual Challenge kicked off, and we are so excited! This year, COVID-19 forced us to cancel our much anticipated in-person 5K, Walkathon and Family Fun Day! We are so bummed to not be able to celebrate the occasion in person with you. But, we're so excited about this Virtual Challenge. 
With the virtual platform, participants can run, walk, bike, hike, jog, swim or wheel to complete the challenge. There is no requirement to complete a full 5K, you can just go for a stroll and snap a selfie, then send it to RCollis@thearcgloucester.org to be featured in our Wrap Up video and on the website and Social Media!
For example, Chris Corrigan, one of our long-time supporters, completed his 5K on his bike this past Saturday, October 17th! He plans to continue to bike throughout the duration of the challenge! Chris has received over $800 in pledge donations, and continues to fundraise for us! You rock, Chris!
You can still sign up to participate and/or fundraise all week long! Just click here to sign up now! All participants will receive a long sleeve t-shirt!
Thank you so much for supporting The Arc Gloucester. Stay tuned with us all week as we post about our 5K, tips for completing a 5K, and some fun surprise content from our staff and board!
Stay well!