Virtual Programming, Pre-Vocational Training & Supported Employment
Due to COVID-19, we were forced to cancel our in-person programming. Since then, we've been brainstorming ways to keep the individuals in our program engaged and educated. We now offer virtual programming for the individuals in our programs. Individuals can enroll in multiple classes a day in a variety of educational topics such as cooking, fitness, sensory development, social media training, learning Spanish, and more! 
We provide learning and work experiences to help individuals with IDD succeed in the community. Participation in this program (individual or small group) develops common workplace skills. 
Supported Employment is designed to help obtain and maintain a job in the general workforce. Job training opportunities may be available at one of our businesses.
Virtual Programming
We provide learning and work experiences to help individuals with IDD succeed in the community.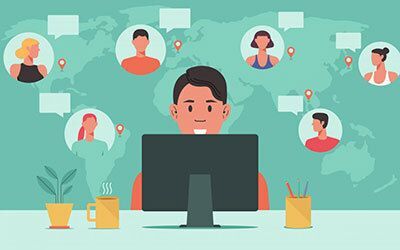 Virtual Programming continues at The Arc Gloucester this year! We are so excited to bring back our most popular classes and refresh the offering with some great new options! You can pick and choose which classes to participate in on a daily basis, too! 
If you are not receiving services at The Arc Gloucester, but wish to participate in Virtual Programming, you can! It's easy! You can simply fill out the Virtual Programming Contact form linked below, and we will get the process started. You'll be signing on to our Zoom classes in no time!
 
---
Monday Class Descriptions
1:00 pm - Dance Party Fitness
Calling all music fans! In this class we will explore a fun way to get our bodies moving and our heart rate elevated to exercise our bodies! Join us for a dance party that will also give us a great workout!
 
Tuesday Class Descriptions
10:00 am - Welcome to Spanish
Bienvenidos! Join us as we learn basic words in Spanish while engaging in fun activities. We will be learning basic greetings, numbers, colors and much more! We will also explore the culture of Spanish speaking countries.
11:00 am - Basic Cooking
Do you need a little help in the kitchen? In this class, you will learn how to prepare simple snacks, lunches and desserts! Join us as we create delicious treats with basic ingredients and tools!
1:00 pm - Music Appreciation
Let's get ready to rock! Enjoy your favorite music from a wide array of artists while learning about the different genres and the history of music.
 
Wednesday Class Descriptions
10:00 am - Book Club with Dr. Suess and Friends
In this class we will enjoy books and stories for everyone. Let's have fun reading The Cat in The Hat and Dr. Suess! We will also enjoy reciting our favorite nursey rhymes!
2:00 pm - Bingo with Ana!
This classic game of chance where players match the numbers on their board with the number the host randomly draws. Players mark the numbers called and when they get five in a row they yell out BINGO! First one to Bingo wins!
 
Thursday Class Descriptions
11:00 am - Scattergories
An exciting word game to challenge your mind while having fun with your friends!
12:00 pm - Memory Game
Join us as we enjoy Memory Games, Trivia with Movies and TV Theme Songs, Flip Cards, and Movie Moments! Strengthen your mind while having fun!
1:00 pm - Sing Along
Ready to impress your friends and family? Join us as we have fun learning and practicing your favorite holiday songs. The best way to spread cheer is singing loud for all to hear!
 
Friday Class Descriptions
10:00 am - Sensory Exploration
How do we experience the world around us? Join us as we explore the various ways we use our senses to understand the world around us. We will discuss and demonstrate how sights, sounds, smells, tastes and touch affects us and the emotions they can bring out in us.
---
Register Now!
Fill out the form below to register.
Upon Completion
Please be sure to fill this out with your Support Coordinator's information. Upon completion, you will receive an email from Matthew Brady, MBrady@thearcgloucester.org, who will help coordinate the simplified intake process and get you started!